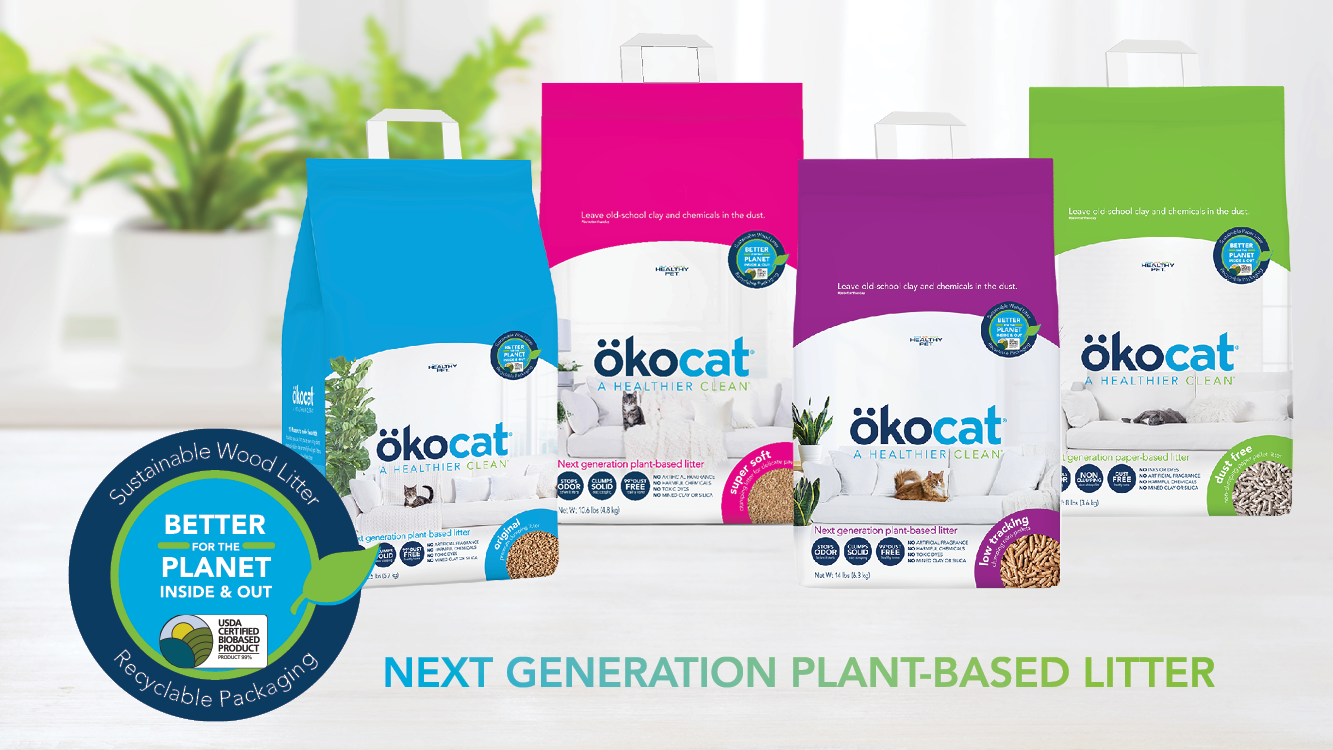 ökocat® Natural Litter Introduces New 100% Recyclable Packaging
FERNDALE, WASH. (August 8, 2023) – ökocat has announced its sustainable, wood-based litter will receive a packaging refresh to a fully recyclable paper bag, furthering the brand's commitment to environmental sustainability. Starting in October of 2023 the current box packaging will transition to new double wall paper bags with a recyclable handle to directly answer the requests of their consumer. 
Healthy Pet decided to make the switch to a recyclable paper bag after consumer research revealed the natural litter and ökocat consumer has a strong desire for 100% recyclable packaging to align with their desire for a cleaner, healthier and more sustainable litter choice. "Interestingly, very few natural brands are meeting natural litter consumers' wants on packaging, with many still being in heavy non-recyclable, non-biodegradable plastic bags or poly pouches," notes Jane Wasley, Head of Marketing for Healthy Pet. 
"We are delighted to provide our customers with the same high quality, sustainable litter they love in new 100% recyclable packaging," said Healthy Pet's Consumer Communications Manager Leslie Ellis. "This refresh allows us to remain focused on providing the same industry-leading product but with more environmentally friendly packaging".
ökocat creates next generation plant-based, biodegradable litter made in the U.S. from sustainably sourced, responsibly rescued natural fiber without harmful chemicals, artificial fragrance, toxic dyes, strip-mined clay or silica. 
For more information about ökocat, to purchase online or to find retail locations near you, visit healthy-pet.com/okocat.
Next Article