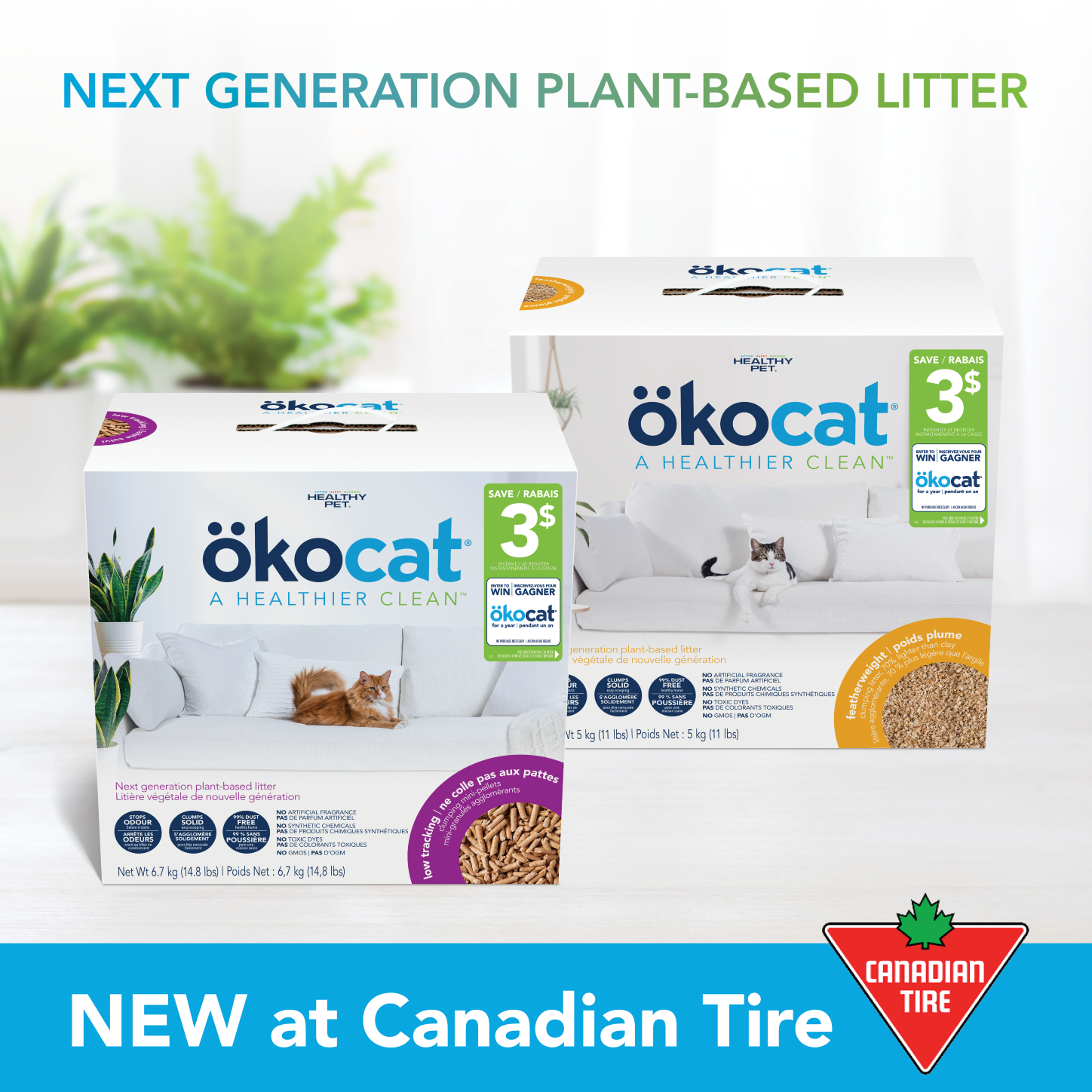 ökocat® and carefresh® Products Now Available at Canadian Tire
FERNDALE, Wash., Feb. 21, 2023 /CNW/ -- Healthy Pet has announced variations of its ökocat natural, plant-based litter and carefresh biodegradable, sustainable small pet bedding at select Canadian Tire locations throughout Canada and online at CanadianTire.ca. Consumers can check in-store availability by visiting the Canadian Tire website.
ökocat's lightweight, clumping Featherweight variation and the brand's clumping, Low Tracking mini-pellets variation will both be featured online and on shelves in approximately 350 locations nationwide, along with carefresh's Natural and Confetti variations of small pet paper bedding. ökocat and carefresh products can be found at participating Canadian Tire select locations that include a Petco section as part of a partnership between the two retailers to offer a wide selection of Petco pet products at Canadian Tire stores.

"It is a privilege to work with one of Canada's top retailers to provide pet parents with natural, sustainable pet products to help families across the country live cleaner," said Healthy Pet's Consumer Communications Manager, Leslie Ellis. "We are thrilled to have the opportunity to make ökocat and carefresh products available to Canadian Tire customers and pet parents throughout Canada."
Consumers purchasing the ökocat products in-store will find an instant redeemable coupon on each package for $3 off their respective purchases at Canadian Tire locations, aligning with both Healthy Pet and Canadian Tire's missions to provide affordable, quality products.
ökocat is the next generation plant-based litter that is cleaner and healthier for cats, families and their homes. The natural litter is made in the U.S. from sustainably sourced, responsibly rescued natural fiber without harmful chemicals, fragrance, dyes or GMOs. ökocat provides outstanding odor control and easy-clean clumping for a litter that lasts longer and is 99% dust free for a cleaner, healthier home.   
carefresh is the #1 brand of small pet bedding, and unlike other pet bedding, carefresh is made from scratch specifically for small pets using sustainable natural fiber The bedding is pillowy soft, ultra-absorbent and both biodegradable and compostable. It has long lasting clean and comfort with less stress on the pet and less clean-up for the pet parent.
To find Canadian Tire locations offering ökocat and carefresh products, visit CanadianTire.ca. For more information on ökocat and carefresh products, visit Healthy-Pet.com.
Previous Article
Next Article