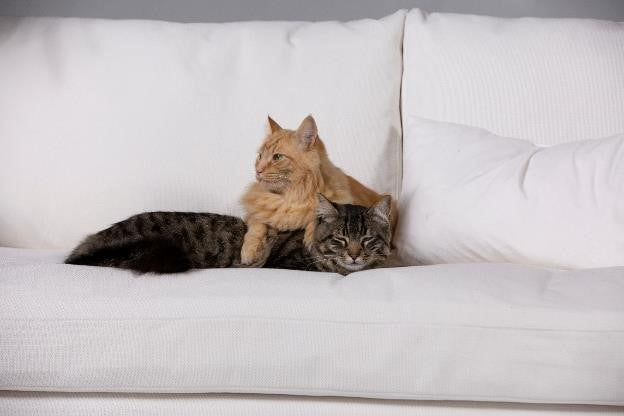 Easy Spring Cleaning Tips for All Cat Parents
It's that time of year where flowers bloom, birds start chirping and we start looking forward to spending more time outdoors. Unfortunately, the country is currently facing a time of isolation due to COVID-19, which is causing us to spend even more time at home. We may not be happy about it, but think about all of the happy cats!

Now that you find yourself with more time at home and less to do, are you thinking about doing some deep spring cleaning to pass the time? You may be catching up on laundry and cleaning out closets, but don't forget your cat! Now is a great time to find all of those missing cat toys, improve your cat's litter box area or clean up that lingering cat hair — don't worry, we all have it!
Toys — where did they all go?!:
We all love spoiling our kitties with toys they can catch and chase, but as you probably know, those toys can easily go missing. Make your cat's day and consider taking the time to find all of the hair ties, springs and catnip filled toys that have fallen victim and gone missing under the couch, refrigerator or stove. If you need help reaching those toys in hard to reach places, a broom can help extend your reach!

After you've completed your search, place all of the toys in one area and make it a mission to collect all of the newly missing ones each week. Your cat will be happy because he'll always have something to play with, and you'll be happy because you won't have to keep buying more toys when the others go missing.
If you want to take it one step further, thoroughly inspect each toy as you find them. Is it broken or dirty? If so, then take the time to fix, clean or toss them in the trash, if necessary. When cleaning cat toys, we recommend using a vinegar and water solution. If a particular toy is still in good condition but your cat doesn't use it, consider donating to your local shelter.


Litter — is it time for a switch?
Giving your cat's litter box area a deep cleaning isn't always fun, but you'll feel so much better once it's done. Start by removing all litter boxes from the area and grab your trusty hand vacuum (or an old fashion broom and dust pan works too!) and sweep up any remaining litter pieces. If your litter boxes are on tile, vinyl or hardwoods go the extra step and wipe down the area with a floor-safe disinfectant spray or wipe.

While your litter boxes are out of the area, now is a great time to completely empty all remaining litter and fill the empty boxes with ökocat. ökocat is the perfect choice if you're looking for a cleaner, healthier cat litter for your home. One of the best parts? It can last up to 7 weeks with regular scooping, so you won't have to deep clean as often.
In addition to being a cleaner, healthier cat litter option, also includes key benefits found most important to cat owners when choosing a litter:
Stops odor before it starts: Wood fiber naturally prevents enzymes from bonding with liquid and waste to stop the creation of ammonia.
Clumps solid for easy cleaning: Precision-cut fiber absorbs liquid on contact to form solid clumps for easy scooping and cleaning.
99% dust free for a healthy home: Clean wood fiber is screened & de-dusted for a cleaner pour. No dirty clay dust.
NO artificial fragrance, NO synthetic chemicals, NO toxic dyes, NO GMO's
100% sustainably sourced, responsibly rescued
Biodegradable & Flushable for fast, easy clean-up or can even be composted
Naturally lightweight for easy carrying and pouring
Doesn't attract bugs like some food based litters

Cat Hair — we all have it!:
You know what warmer weather brings? More shedding… 🙀 All of us cat owners struggle with keeping up with the cat hair that floats around our houses. You're not alone! Take this time to catch up on cat hair removal. This could mean giving your couch a thorough vacuuming, replacing the air filter in your furnace or finally taking the time to move that piece of furniture that's typically hard to sweep underneath and/or behind.

To stay ahead of the cat hair, you can also help your cat by brushing them often with a deshedding tool, which means less hair floating around your house. You'll be surprised by how much hair it gets, and your cat might enjoy it, too!
Another thing you can do to help your cat continue to live its best life as the weather warms up is to start treating for fleas and ticks early, especially if they go outdoors. Set up a time to meet with your vet to make sure you have everything needed to keep your cat and home pest free.
As we try to enjoy spring and make the most of our increased time at home, we encourage you to take the time to make cleaner, healthier choices for your cat, your family and your home. Let us know other unique ways you're making your cat's life easier and cleaner if there's something we didn't cover!
Previous Article
Next Article