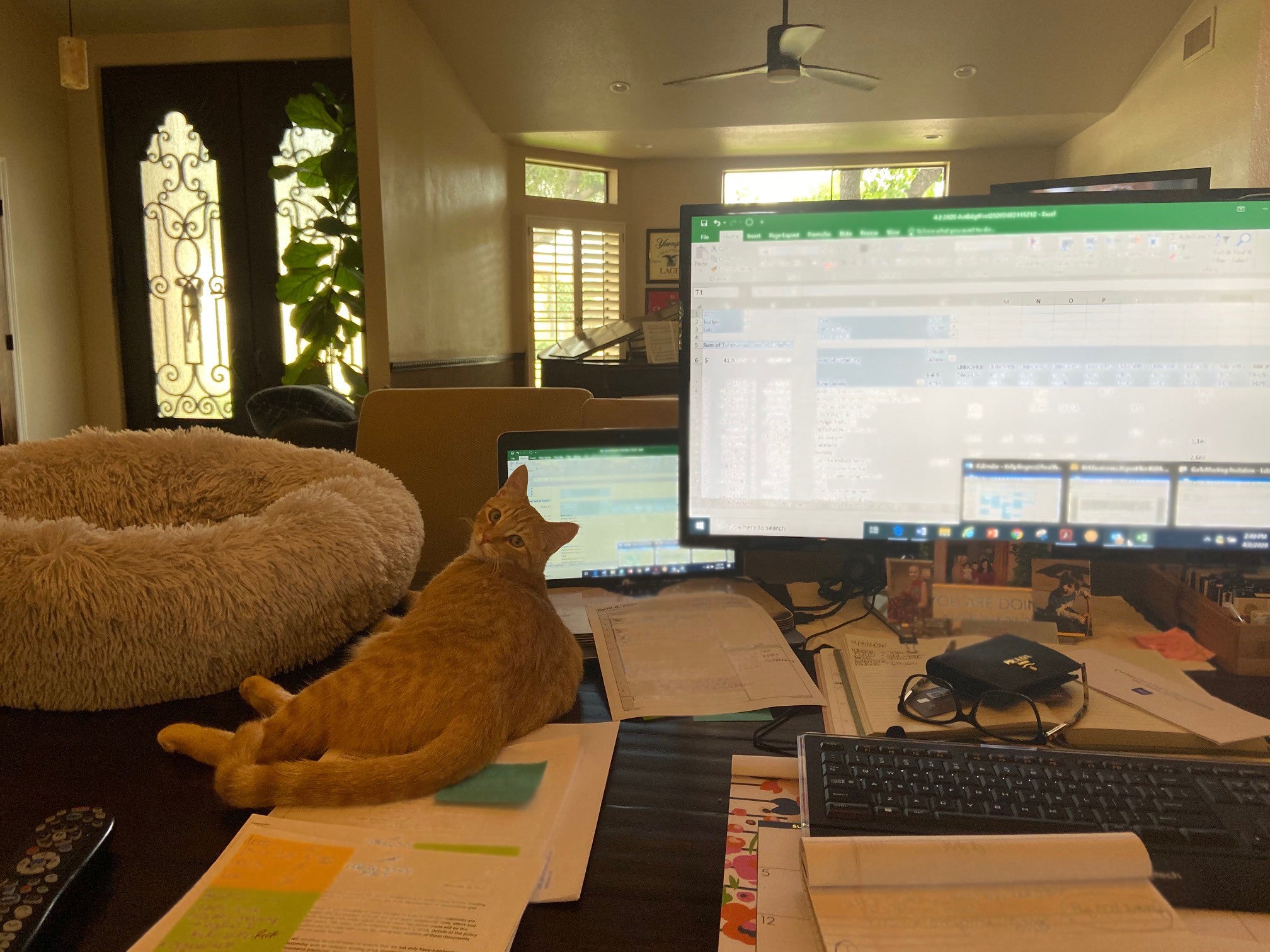 3 Things We Learned from You About Working from Home with Your Cat
June 22nd is National Bring your Cat to Work Day, but with most of the nation working from home due to COVID-19 restrictions, we know that for many of you, every day has become  bring your cat to work day.
We wanted to learn more about what you are doing to co-exist with your new feline coworkers, so we asked and you answered through comments on ökocat's Facebook and Instagram pages.
Here are the three main things we learned from you:
1. You are happy to let your cat crash your party.
While working from home is not ideal, there are a few major perks, including hitting snooze a few extra times, skipping your morning commute, and especially enjoying time with your four-legged friends. Our new furry coworkers do require a little more attention than your typical office-mates though. It can be a bit distracting when your kitties are constantly finding new places to sleep, trying to distract you, and staring you down as you work. However, because you love them, you let them crash the party anyways.
In fact, Facebook user Lorri tells us, "Sometimes I work on the couch […] Bella wants to make sure I don't forget to pay attention to her. She will just lay on my papers, and how can I disturb her?" (via Facebook)
Jennifer spoils her sweet cat Lily, "Lily loves my keyboard and my memory foam mouse pad. I had to get a new mouse pad and give her the memory foam one. " (via Facebook)
Michelle makes new exceptions for her cat Kara, "Since working from home, Kara has been quite needy and constantly wants attention, I decided to work outdoors to get some fresh air and even though she's strictly an indoor cat, I let her hang out with me to get some sun!" (via Facebook)
Kristin reminisced about working from home with her late cat named Josie, "My two current cats prefer to stay in my bed all day. But my sweet Josie girl always sat on my fabric when I had orders from customers. Whenever I was working she had to be in the middle of it." (via Facebook)
2. You keep the treats and toys handy.
As you and your kitty settle into a routine of what it looks like to work from home, it's important to establish healthy boundaries to make sure your cat gets the attention they need, while still staying productive yourself.
Convincing your cat that they don't always need constant attention when they are convinced they deserve it can be tricky. However, a great way to help both of you stay sane is by providing lots of treats, toys and other distractions to keep your four-legged friend entertained while allowing you to stay focused.
Instagram user Jelli tells us that her cat loves to join in on Zoom calls and check out the computer, so she just "sets up his own monitor so he can watch YouTube, along with a bed so he can sleep near me while I work." (via Instagram)
Elizabeth's cats, Sobics and Littleman, each have different requirements, but she is more than happy to make sure they both get exactly what they need so she can get her work done. "Sobics requires one cat treat to get off my mouse. I now keep treats in my desk drawer. And for Littleman, I keep toys around so when he gets in the window and squawks loudly at the birds on the power lines, I can easily get his attention and get him OUT OF MY OFFICE." (via Facebook)
Jennifer advised that in addition to having appropriate cat distractions available, it's important to "keep desk drawers closed lest your feline office mate steal all the pens, paper clips, etc." (via Instagram)
3. You set up a separate place from them to sleep.
Maybe your cat isn't attention hungry, but prefers a nice long snooze on your keyboard, your mouse, your chair or any other inconvenient location. Simply set up a cat-friendly place for your sweet kitty to be nearby, but not in the way of your workplace.
Dianne told us, "My coworkers (cats) love my keyboard, so instead of having them occupying it, I put a box near my set up to distract them." (via Facebook)
Elizabeth made the decision to, "put a hammock in the office to entice Sir Poogie Woogie of the Pudding Bears to stop walking & sitting on the keyboard." (via Facebook)
Working from home means needing to keep the litter box clean.
Working from home also means it's even more of a necessity to keep the litter box clean and free of odors. No one wants to deal with litter box smells in their home while working.
The best way to assure no ammonia odor and easy, fast cleanup is by using ökocat® natural wood litter. Because ökocat is a healthier, cleaner litter with no artificial fragrances or synthetic chemicals, you and your cat don't have to breathe in dirty, heavily scented clay litter or obnoxious odors. ökocat is 99% dust free making it the better choice for you and your cat as you spend more time at home together. Make the switch to a healthier clean™ and choose ökocat.
From spoiling your kitty with treats to providing the perfect spot for them to sleep, we know how much you love your fur baby, so we hope you enjoy a little extra time spent with them on National Bring Your Cat to Work Day!
Previous Article
Next Article