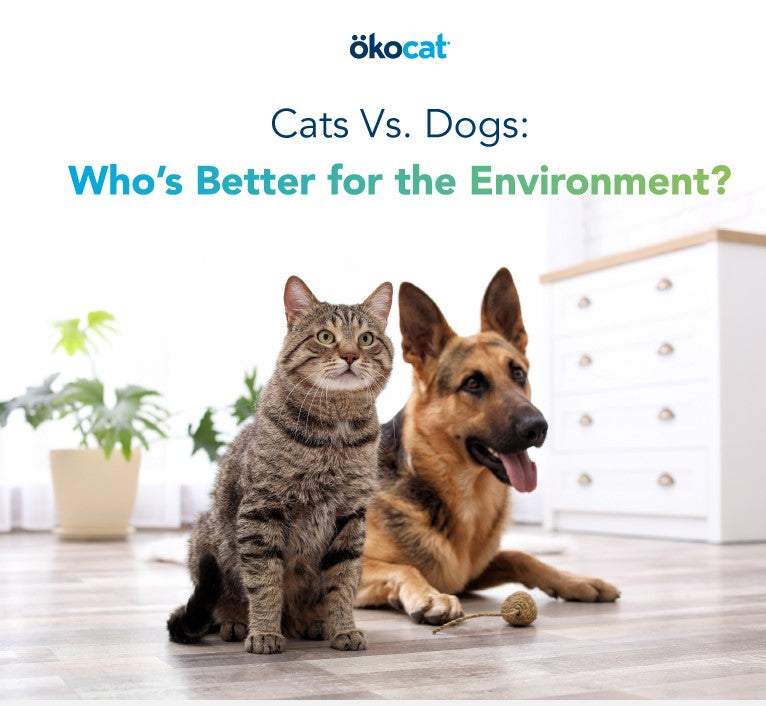 Dog vs Cat People: What Your Preference Says about Your Sustainability Habits
Would you say that you're a cat or dog person? According to a recent survey, your answer might also reveal a lot about your sustainability habits and ambitions!
2,000 cat and dog owners in the United States were polled for this survey, and of those pet parents, 69% believe they enjoy a more sustainable lifestyle compared to the average Americans.
However, when asked about the steps they've taken to lessen their overall impact on the environment, just half of all cat owners say they're recycling frequently or more often. While only 44% of dog owners said the same about their own recycling habits! The households where cats and dogs live together are having an especially hard time sorting their trash, with only 37% of those pet parents are recycling more.
Thankfully, the survey also reveals that a whopping 94% of respondents made an effort to live more sustainably than they did a year ago. Nearly one in five even claim that they've "radically transformed" themselves and their sustainability habits over the past year. For almost half of the polled pet owners, that includes seeking out more environmentally friendly foods and products for their furry friends and swapping to biodegradable poop bag or an all-natural cat litter.
"Many people don't realize that clay litter and crystal litter are strip-mined from the Earth and don't decompose," said Dr. Ruth MacPete, DVM. "That's why it's important to look for options made from natural materials, like wood fibers, that are compostable and biodegradable."
While taking care of more than one animal species might make recycling more difficult, it seems to lead to more mindful pet parents with 67% having considered the impact of their pet on the planet.
Almost three out of four of dog owners say that they spend more time outside because of their pet; with two thirds agreeing that their outdoor playtime with their pooch has made them more environmentally-minded. Compared to only 11% of feline enthusiasts who allow their cats to roam indoors and outdoors freely.
"It can be tempting to let your cat outside so you don't have to have a litter box, but it is actually much safer and healthier for cats to stay indoors," said Dr. Ruth MacPete, DVM.  "In addition it allows you to monitor your cat's eliminations, which can help monitor their overall health and allow you to identify diseases early."
Of course, some outside playtime isn't out of the question, as 63% already allow their cat some supervised or safe access to the outdoors.
According to our respondents, the 5 best ways to reduce your pet's paw print on the planet:
Switch to biodegradable waste bags or litter
Buy more sustainable food
Switch to products with better ingredients
Spay or neuter them
Adopted them from a shelter instead of a breeder



Previous Article
Next Article